Anne Marie Sigler on The State of Recruiting
Talascend Spotlight
August 28, 2020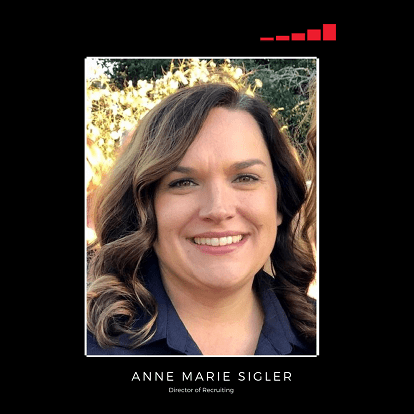 Anne Marie Sigler, Director of Recruiting
We love to highlight all the industries that we are proud to partner with at Talascend, but the backbone of our involvement with so many top companies is, of course, recruitment. We pride ourselves on connecting the appropriate talent with a role in which both ends will thrive.
The state of recruiting and hiring in the last couple months has seen some less than ideal changes. These changes are very apparent and have required most workforces to shift. Interviews and meetings are mostly virtual, we have experienced unfortunate layoffs and furloughs, and the means to keep a company going are completely different.
We want you to succeed whether you are just beginning a job search phase, or deciding which offer makes the most sense for your future. For the best insight on what to expect in the hiring world is expert Director of Recruiting at Talascend, Anne Marie Sigler.
What is your position at Talascend and basic responsibilities?
I am the Director of Recruiting at Talascend and have been with the company for 14 years. I am responsible for recruiter management, securing the resources our recruiting team needs to be successful, recruitment strategy, and training and development.
What impacts have you seen overall with corporate hiring during this pandemic?
Corporate hiring has slowed or been put on hold during the pandemic. Talent acquisition teams, in some cases, have reduced in size or placed on furlough. This is why partnering with a staffing agency/recruitment firm is attractive and helpful to companies. We have recruiting teams readily available, and we have access to multiple recruiting tools.
Are you seeing more contract or direct hiring needs?
At this time, we are seeing more and more contract hiring needs. I believe this is due, in part, to companies' needs to add additional staff quickly to catch up on manufacturing and project timelines that may have been pushed back or halted due to COVID. These contract needs can be long-term assignments and even contract-to-hire for the right talent. We currently have opportunities for the job seeker that fall into all of these categories.
What advice would you give job seekers at this time?
This has been a strange time for everyone, especially those that find themselves without work. The number of jobs available is on the rise as companies are trying to move towards pre-COVID headcount levels. I would recommend job seekers stay up to date on what's available related to their job skills and location. They can do this through the numerous job boards, company websites, google searches, etc.
Job seekers should also make their resume available so companies, recruiters, and their professional network can reach them when good opportunities come along. Being proactive in their search is key. I would also recommend job seekers consider working contract roles, even if they're used to working direct roles in the past. There are some great contract opportunities available and they could provide a permanent opportunity for them in the future. Stay positive, the next great role is around the corner.
What is a trend in new hires you see now that you maybe did not see a year or so ago?
Candidates onboarding for new positions are getting multiple offers so the ease and speed of the onboarding process for a company can help in starting new hires. Staying in communication with those new hires throughout the process is a necessity so they stay informed of timelines and any issues that may arise.
Do you have any other advice or comments to employers, or job seekers during this time of change?
We've seen a lot of change to the workplace over the last several months. A large portion of employers are working remotely, job seekers are interviewing for jobs virtually, and employees back at work sites are having to take extra precautions to maintain a safe and healthy workplace. The important thing to remember is we are all in this together. Don't be afraid of change, be ready to grow and take advantage of the new opportunities in front of you.
About Talascend
Talascend is a Veteran Owned Business that is dedicated to the success of our nation's civilian and veteran personnel. To date, the Talascend organization has a staff of 60 experienced and tenured recruiting professionals, a contract community of nearly 700 employees working on-site at our partnering accounts, and a candidate community of 700,000+ engineering, technical and skilled trade professionals.
With 75 years of staffing success, Talascend has been one of the most reliable and effective providers of strategic staffing solutions for clients serving multiple industry verticals needing top talent in engineering, technical, and skilled trade disciplines. Headquartered in Troy, Michigan, the Talascend companies have worked with some of the world's largest and best-known organizations on an extensive range of high-profile projects nationwide. If you are looking for a new career, or to grow your workforce, contact us today!
Social Media
Talascend's social network communities are growing every day, connecting professionals from across the technical world. Maybe you belong here. Take a look around and decide for yourself.