MSP Supplier
For years, Talascend has been a preferred Supplier to numerous Managed Services Provider [MSP] programs. Talascend has a dedicated Account Management and Recruitment team under our Center of Excellence [COE] that understands the importance of supporting and complying with our customers' processes and working seamlessly with their systems. Our COE has worked to build an efficient Recruitment process that utilizes cutting edge technology to ensure job requisitions are received and addressed quickly and drives speed of delivery aligned with our clients' critical hiring needs.
Our COE team:
Drives consistent execution of delivery and fulfillment on all Managed Services Programs daily
Has established consistent processes for effectively and efficiently onboarding new employees deployed via MSP programs and ensuring a positive employee experience every time
Stands ready to effectively and efficiently onboard new Managed Services Programs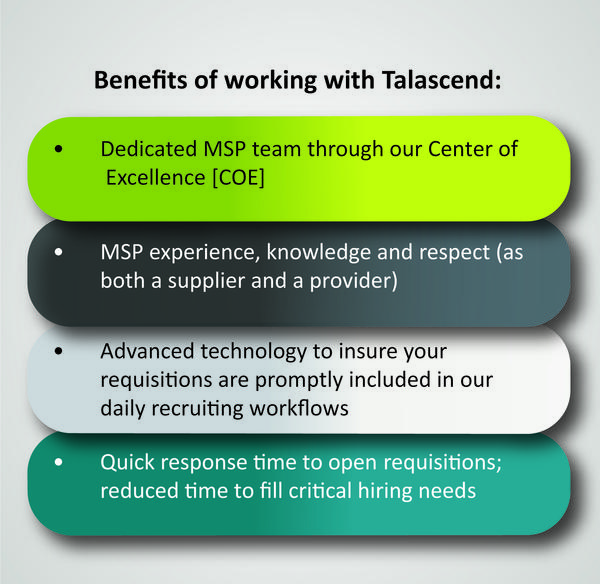 Additionally, our experience as a Provider through Talascend's own strategic solution, Visilent, has afforded us the opportunity to learn the nuances of MSPs from both sides and to efficiently work with companies that manage their large-scale hiring needs through an MSP.