Employees by Design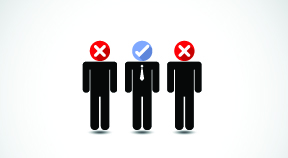 Official Talascend Release
August 31, 2015
Despite college enrollment increasing from 26% to 41% between 1980 and 2012, nearly half of U.S. employers believe that college graduates do not have the necessary skills for a job in their career field. While the standard protocol for employers was to interview until they found the 'perfect' employee, desperation is driving employers to build their own perfect employee.
There are numerous ways that companies are approaching this challenge. Some companies are incorporating sophisticated analytics to help them target a shrinking pool of qualified talent. Other employers are investing serious money to implement comprehensive training and development programs and initiatives for new hires. They understand the best way to build a loyal workforce is to start building their competence and confidence right from day one; positioning them for early success and long-term growth.
But, that's easier said than done. A high performing AND loyal workforce used to be one built on relationships, trust and duty (to each other)...No one talked about employee "motivation" or employee "engagement." Things have changed radically; what employees and employers want/need and expect from each other is very different. Keeping an employee engaged is much more difficult than simply motivating them. Many companies hope perks such as time off and cash rewards will motivate their employees. While these are extrinsically motivating to some employees, they only go so far in engaging a person's heart to make them want to stay. A truly engaged employee is more likely to be creative, and pro-active, going the extra mile to move themselves, as well as the company, forward toward their mutual goals.
There is no secret formula for designing the perfect employee; but, many studies and programs have sought to determine the factors that resonate most with employees. Here are the factors that stand out for us...
Comprehensive Training – Beyond HR orientation or an annual industry webinar, this includes regular training that nurtures existing skill sets and builds new ones. Group training also provides an opportunity for team building while strengthening your company culture (see next bullet).
Promoting a Positive Company Culture –If a positive company culture isn't nurtured day in and day out, you'll have trouble keeping the best employees. Facilitating a positive company culture comes from the top down. Leaders have to go beyond just providing the basic tools and work space…a great culture has a clear vision and mission that everyone understands and supports, defined targets/goals, a clear image of what it takes to win and celebrates successes as much as diagnosing/addressing failures. A strong company culture goes a long way in attracting and retaining the right people for your organization.
Open lines for Communication – Silence breeds uncertainty. Keeping an open door policy and setting time aside to talk regularly can foster opportunities big and small to build valuable relationships and learn about everything from employees' ideas for the company togetting a pulse on employee morale.
Strategic Career Pathing – Understanding an employee's goals and what makes them 'tick' in terms of excelling in a work environment is also an important factor. A tool used by Talascend called InnerMetrix® offers just that – a roadmap for the leader and the individual to learn key strengths and potential contributions of staff to inspire, motivate and plan for future success, and to improve productivity and benchmark top talent.
Designing your dream team needs leaders who think beyond perks and annual bonuses. Focus on the factors that foster a positive relationship with the employee and helping them reach their full potential within your organization. As you help your team to design a fulfilling career, you are cultivating the loyalty and commitment and excellence, previously you could only dream of.
About Talascend
Talascend is a Veteran Owned Business that is dedicated to the success of our nation's civilian and veteran personnel. To date, the Talascend organization has a staff of 60 experienced and tenured recruiting professionals, a contract community of nearly 700 employees working on-site at our partnering accounts, and a candidate community of 700,000+ engineering, technical and skilled trade professionals.
With 75 years of staffing success, Talascend has been one of the most reliable and effective providers of strategic staffing solutions for clients serving multiple industry verticals needing top talent in engineering, technical, and skilled trade disciplines. Headquartered in Troy, Michigan, the Talascend companies have worked with some of the world's largest and best-known organizations on an extensive range of high-profile projects nationwide. If you are looking for a new career, or to grow your workforce, contact us today!