Forklift Safety Tips
October 19, 2020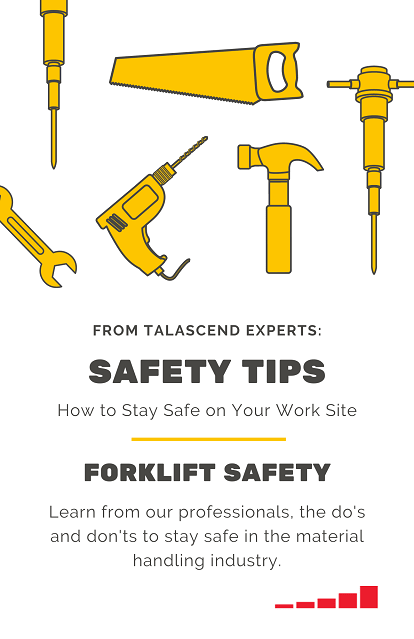 Talascend puts safety first! We are fortunate to partner with so many leading companies in the Material Handling and Installation Sectors. These men and women can work in some dangerous spaces, which is why we want to surround our teams with as much safety knowledge as possible.
Especially in all Material Handling, Warehouse and Construction sites there are constant safety hazards. One of the most prominent accidents to occur are mishaps with forklift operation. Forklift accidents result in around 34,900 serious injuries per year, and hundreds of thousands of dollars in damage to infrastructures.
Every company's priority on the worksite should be to keep their employees safe, and make sure the equipment is being used properly. Safety Managers and Supervisors can only watch so many places at once, therefore each operator needs to hold responsibility in operating their machinery properly. Talascend's expert Safety Manager, Adam Moore offers some tips from his many years of experience in keeping his crew safe on the worksite.
Adam stresses the importance of forklift operators being very confident and competent people. These operators need to always be aware of their surroundings, and not afraid to use their horns, and be thorough in their safety checks before and after operating. Always have proper certification for the machine, inspect your machine before each use, and keep detailed inspection logs.
Lastly, always watch out for your fellow employees and crew! Keep everyone accountable for following safety precautions as it is only in the best interest of the whole team.
About Talascend
Talascend is a Veteran Owned Business that is dedicated to the success of our nation's civilian and veteran personnel. To date, the Talascend organization has a staff of 60 experienced and tenured recruiting professionals, a contract community of nearly 700 employees working on-site at our partnering accounts, and a candidate community of 700,000+ engineering, technical and skilled trade professionals.
With 75 years of staffing success, Talascend has been one of the most reliable and effective providers of strategic staffing solutions for clients serving multiple industry verticals needing top talent in engineering, technical, and skilled trade disciplines. Headquartered in Troy, Michigan, the Talascend companies have worked with some of the world's largest and best-known organizations on an extensive range of high-profile projects nationwide. If you are looking for a new career, or to grow your workforce, contact us today!
Social Media
Talascend's social network communities are growing every day, connecting professionals from across the technical world. Maybe you belong here. Take a look around and decide for yourself.