Talascend provides vital mentorship support to Metro-Detroit High School students
For Immediate Release
Troy, Mich., July 10, 2018 -Talascend, a proud partner and strong supporter of the Winning Futures organization, concludes their third consecutive year of mentoring high school students in Metro-Detroit. Since 1994, the Winning Futures (WF) organization has impacted 46,000 students and awarded $1.8M in scholarships to their mentees and this year, Talascend was proud to have provided mentorship support to one of these hard-working mentees who earned a scholarship through the 2017/18 program.
Talascend's Director of Marketing and Communications, Jaclyn Sikora, joined the Winning Future's family in 2016 and commits one hour, per week each school year to the students within this program. Since the commencement of her voluntary duties, Mrs. Sikora has provided guidance, support and mentorship to five (5) young ladies of which she continuously engages with even after the conclusion of the program.
Giving back to something that is making true impact on our world is a feeling you can't truly describe until you do it. This program is extraordinary. I get an opportunity to spend one hour a week with our future generation of workforce leaders. I get to witness their academic growth and help lead, guide and encourage them to make the right choices and follow their dreams. I work hard to earn their trust and from all of this, I get to build a relationship that supports them through some of their most challenging teenage years. I learn just as much from my mentees as I hope they are learning from me and I feel very fortunate to be able to do this. It's all about making a difference and it's truly amazing.

Jaclyn Sikora
This year, Mrs. Sikora mentored three (3) young ladies (1 Senior and 2 Juniors) and through her continuous encouragement and professional guidance, Brittany Padilla, a hard-working senior at Madison High School applied for the 2018 WF scholarship and WON! To be considered for the WF scholarship, applicants must formalize a report with a detailed five-year, post High-School career plan, develop a resume to support their initial steps in seeking a career and conduct themselves professionally in a full panel board interview. Brittany was one of the twenty (20) recipients who won the 2018 scholarship award and within her application, she makes specific mention to her mentor, Jaclyn Sikora.
I want to point out specifically Mrs. Sikora as she has been a wonderful mentor and I have never met anyone more driven to see her mentees succeed. She is so thoughtful and connected, and she goes the extra mile in everything she does. She sends out texts to make sure we are doing well or to have a great weekend, she sends us cards or thoughtful gifts during the Holidays … I don't know who wouldn't want someone that positive in their life! I am very thankful to have her as my mentor because she has shown me what it takes to succeed and that I do not just want this scholarship, but I deserve it. This has been a great last year of High School for me because of my mentor, Jaclyn Sikora.

Brittany Padilla
To commemorate Brittany's scholarship and graduation from Madison High School, Talascend presented her with a special "College Starter Kit" at their HQ Recruiting Office in Troy, Michigan to prep her for her first year at Macomb Community College and to begin her journey of becoming a Physician's Assistant. Brittany was presented this gift from her Mentor, Jaclyn Sikora and Talascend President (previous Winning Future's Mentor), Jason Dawson.
From all of us here at Talascend, we congratulate Brittany and all the 2018 High School Seniors! You can be anything you set yourself out to be. The future is yours and we wish you all the very best in your next chapter in life.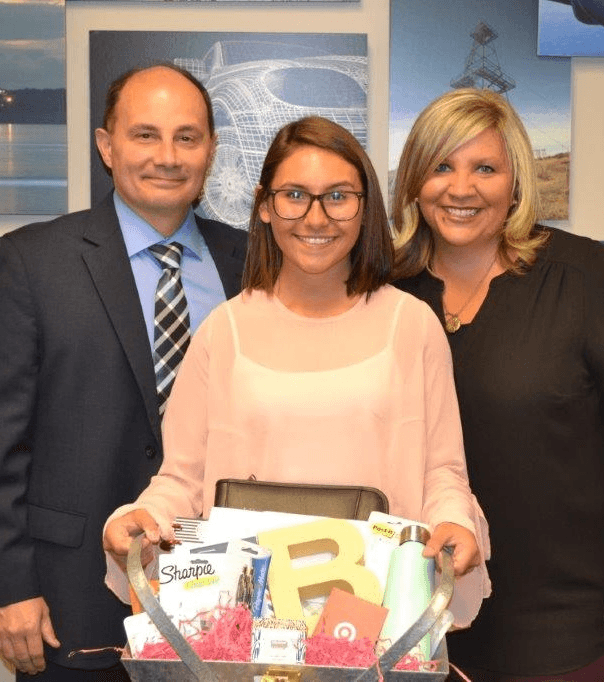 About Talascend
Talascend is a Veteran Owned Business that is dedicated to the success of our nation's civilian and veteran personnel. With over 72 years of staffing success, Talascend has been one of the most reliable and effective providers of strategic staffing solutions for clients serving multiple industry verticals needing top talent in engineering, technical, and skilled trade disciplines. Headquartered in Troy, Michigan, the Talascend companies have worked with some of the world's largest and best known organizations on an extensive range of high-profile projects nationwide. If you are looking for a new career, or to grow your workforce, contact us today!