Rebekah Chambless on Railway
Talascend Spotlight
August 3, 2020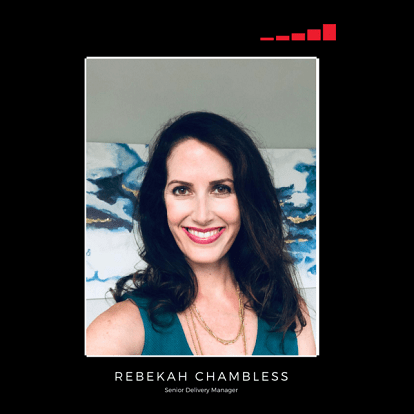 Rebekah Chambless, Senior Delivery Manager
Rail Industry Outlook
Economic factors have always been a contribution to the ebbs and flows of our nationwide railway industry. Bad news? Just like everything else, the pandemic reverted the trendlines significantly in 2020. Good news? We are seeing the uptick. Post pandemic trends are moving in the right direction based on transportation needs within the automotive, eCommerce, and agriculture industries.
Overall, industry experts remain cautiously optimistic about adapting to this new norm and as the trends continue to reverse, we are seeing job vacancies open and rail and freight employers are seeking skilled talent, adaptable to these fluctuations.
To share some expertise on the ins and outs of the Rail Industry is Talascend's expert, Senior Delivery Manager, Rebekah Chambless.
What is your position, and main responsibilities at Talascend?
I am a Senior Delivery Manager at Talascend and have been with the company for thirteen (13) years. I spend most of my time recruiting in support of our direct hire business; primarily for engineering and professional technical roles within the rail, oil and gas, nuclear, manufacturing, and automotive sectors.
What trends have you seen in the past/foresee in the future regarding the Rail Industry?
Our recruiting experience in the rail industry has ranged from the manufacturing and maintenance/repair sector, to the inspection, and signaling parts of the industry. Although it has been a volatile year for the large Class 1 rail companies, the service providers and smaller companies that we work with have seen a consistent demand for good talent. As the rail industry grows in the U.S., I expect to continue to see larger number of roles becoming available.
What does the Rail Industry look for in their employees?
The rail industry tends to be a tighter knit community, and we see a big demand for candidates with good job stability and work history. It is not unusual to see candidates who spend most of their careers with a small number of companies and continue to progress into higher level positions. There are good opportunities for development and advancement within the industry. We also have seen the potential for candidates from other industries to cross over to rail and do well within those roles.
What has changed in the industry from the recent months?
As with every other industry, the rail sector has faced uncertainty due to the economic impact of the pandemic. However, despite the wider issues in the economy overall, we have still seen a stable number of rail positions coming available from our clients. Additionally, we have seen that our clients are open to candidates from other industries. Since the rail sector is involved in every other sector of industry, there are many candidates with some exposure to the sector who may have the necessary skill set to transition over to the rail industry.
Any other thoughts/comments on the Rail Industry or staffing?
I have been impressed with the companies we work with in the railway industry because they offer top notch benefits and other perks. Combined with the opportunities for advancement and development that we frequently see in the roles we recruit for; the industry offers excellent job opportunities for candidates who may be looking for a different career path.
For more information on Talascend's Railway support, or to get connected with a recruiter, visit Rail Engineering Jobs & Resources.
About Talascend
Talascend is a Veteran Owned Business that is dedicated to the success of our nation's civilian and veteran personnel. To date, the Talascend organization has a staff of 60 experienced and tenured recruiting professionals, a contract community of nearly 700 employees working on-site at our partnering accounts, and a candidate community of 700,000+ engineering, technical and skilled trade professionals.
With 75 years of staffing success, Talascend has been one of the most reliable and effective providers of strategic staffing solutions for clients serving multiple industry verticals needing top talent in engineering, technical, and skilled trade disciplines. Headquartered in Troy, Michigan, the Talascend companies have worked with some of the world's largest and best-known organizations on an extensive range of high-profile projects nationwide. If you are looking for a new career, or to grow your workforce, contact us today!
Social Media
Talascend's social network communities are growing every day, connecting professionals from across the technical world. Maybe you belong here. Take a look around and decide for yourself.