Returning to the Workforce
June 4, 2021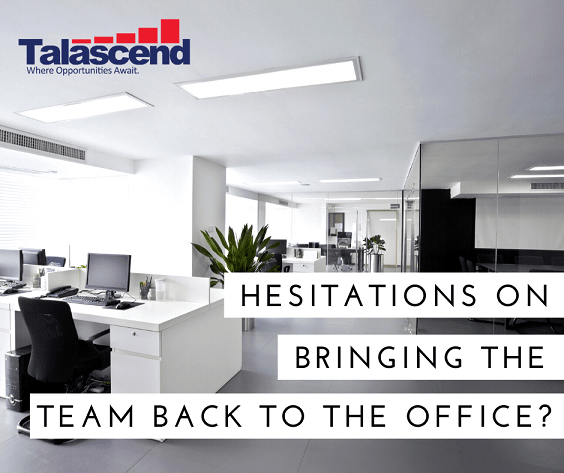 Hesitant about bringing your team back to the office? You're not alone.
According to The Balance on behalf of the Bureau of Labor Statistics, unemployment is at 6.1% as of April, 2021. Obviously, this number is a sure sign that our workforce is on the rebound and economic activity is moving in the right direction, but there are still many questions around our new workforce norm as we approach corporate decisions of returning to the office post COVID-19 (if your company has not done so already).
What do we expect to see from our workforce as we return to the office?
Reentry Anxiety: Many "return to work" plans have been created for a safe reentry with both operational and logistical arrangements being properly accounted for. The one thing that is missing within most plans are the employee's emotional well-being... which should not be ignored. Employees understand that a return back to their new office norm is inevitable for most, but they need time to prepare for it. Be transparent on your re-entry plans. Communicate this information timely so they can digest and get prepared for the transition. Allow them the ability to ask questions and express concerns before they are required to show up. COVID has impacted everyone in different ways, so be ready for all implications as you re-enter yet another transition of this pandemic.
Productivity: We know from Great Place to Work that pre-pandemic, only 5% of American employees worked remote. That number quickly shot to 60% in May 2020. Their study of 715 companies and 3 million US employees over 2 years shows that people are willing to give extra to the job, and that people quickly adapt to changes needed for their company's success. When surveyed, many employees under this study felt happier than ever with their companies, since the companies were given a chance to really go above and beyond under the circumstance of working remote. Showing employee appreciation by sending gift cards or remote lunches, making time to still connect virtually as a team, working harder on good leadership, etc. We will set ourselves up in the best ways by taking all that we've learned we are capable of while at home and continuing business as usual once the time comes. If we can feel stronger friendships and love for our jobs while at home, we can absolutely carry it out back to the office!
Choice and Flexibility: Offer options and flexibility to your employees as office reentry becomes closer. There is no doubt, employees will have real concerns about the return. Obviously, in-office safety is a huge factor, but the overlying anxiety and mental preparation plays a large part. The CDC offers many resources in coping with these emotions, but offering choices for your workforce return will help ease the transition.
Leadership Training: Because management teams will be coming back to heightened team dynamics, it is important to provide solid training and resources during the transition. Playbooks, road maps, and detailed safety measures must be understood by all members of your team well before the date of return. The Center for Creative Leadership has developed many valuable resources, white papers, and thought provoking ideas to prep your leadership team for a seamless return. Bottom line, your leaders must prepare to manage the evolving uncertainties of the return with safety, trust, transparency, and clear communication at the center of each manager/employee relationship.
Although there are many factors to maintaining operational stability during these uncertain times, we must also realize how many lessons we have learned through this journey. Teams have come together, relationships have strengthened, and organizations have witnessed some amazing capabilities of their workforce. Transformation of the workplace has happened and although none of us wanted it to happen with this type of devastation, we must continue to grasp at the power of our collective humanity. We are in this together and whether it's back in an office setting or a continuation of remote working; take each day as another learning experience.
Talascend is proud to be part of many workforce returns and welcome your thoughts. What tips would you offer other organizations as they plan for their teams to reunite.
Learn more about this topic within our Return to Work Vlog series.
About Talascend
Talascend is a Veteran Owned Business that is dedicated to the success of our nation's civilian and veteran personnel. To date, the Talascend organization has a staff of 60 experienced and tenured recruiting professionals, a contract community of nearly 700 employees working on-site at our partnering accounts, and a candidate community of 700,000+ engineering, technical and skilled trade professionals.
With 75 years of staffing success, Talascend has been one of the most reliable and effective providers of strategic staffing solutions for clients serving multiple industry verticals needing top talent in engineering, technical, and skilled trade disciplines. Headquartered in Troy, Michigan, the Talascend companies have worked with some of the world's largest and best-known organizations on an extensive range of high-profile projects nationwide. If you are looking for a new career, or to grow your workforce, contact us today!
Social Media
Talascend's social network communities are growing every day, connecting professionals from across the technical world. Maybe you belong here. Take a look around and decide for yourself.