Talascend receives the Seven Seals Award for U.S. Veteran workforce development
For Immediate Release
Troy, Mich., September 12, 2018 - Talascend proudly received recognition from the Employer Support of the Guard and Reserve (ESGR) for the impacts made in support of employment opportunities to those who selflessly served all of us within a military capacity... our Veterans, our nation's heroes. ESGR has served our country for more than 45 years, fostering a culture in which all employers support and value the employment and military service of members of the National Guard and Reserve in the United States.
Talascend has been in partnership with ESGR for the past two (2) years advocating employment opportunities to those who have been a part of the military community. After a formal Statement of Support signing ceremony on August 29th, 2018, Talascend President, Jason Dawson, was presented with the very prestigious Seven Seals award, signed by the ESGR National Chair, Craig McKinley. The Seven Seals award was received by Mr. Dawson for his meritorious leadership and initiative that support of the men and women who serve America in the National Guard and Reserve. ESGR representatives, Angela Shelby and Fred Kaiser, joined the Talascend Team at their HQ office is Troy, MI to present the awards at the company.


Along with Talascend's commitment to the ESGR, the company holds a bronze level certification as a "Veteran Friendly Employer" through the Michigan Veteran Affairs Agency (MVAA), and is a recognized "We Hire Vets" employer through the Texas Workforce Commission and the Texas Veterans Commission.
Talascend's efforts in supporting the Military community is not about accolades and awards, we do this because it's the right thing to do. Being in the business of recruitment and staffing services, we are lucky to have the ability to offer our services to those who served. Those who sacrifice on our behalf each and every day and those who have made the ultimate sacrifice in protection of all of us. If we can help change the lives of our Veteran community with employment they deserve, then that is all the accolade we need.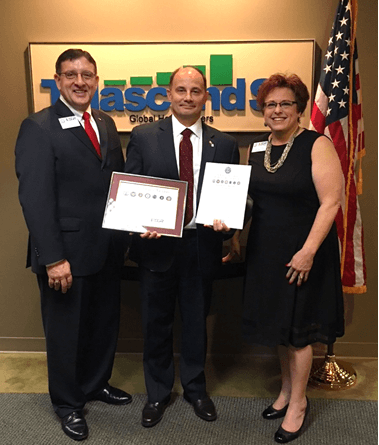 Fred Kaiser - ESGR Representative (left)
Jason Dawson - Talascend President (center)
Angela Shelby - ESGR Representative (right)
About Talascend
Talascend is a Veteran Owned Business that is dedicated to the success of our nation's civilian and veteran personnel. To date, the Talascend organization has a staff of 60 experienced and tenured recruiting professionals, a contract community of nearly 700 employees working on-site at our partnering accounts, and a candidate community of 700,000+ engineering, technical and skilled trade professionals.
With 75 years of staffing success, Talascend has been one of the most reliable and effective providers of strategic staffing solutions for clients serving multiple industry verticals needing top talent in engineering, technical, and skilled trade disciplines. Headquartered in Troy, Michigan, the Talascend companies have worked with some of the world's largest and best-known organizations on an extensive range of high-profile projects nationwide. If you are looking for a new career, or to grow your workforce, contact us today!
About ESGR
ESGR was established by the Department of Defense in 1972 to develop and maintain employer support for Guard and Reserve service. ESGR advocates relevant initiatives, recognizes outstanding support, increases awareness of applicable laws, and resolves conflict between service members and employers. Paramount to ESGR's mission is encouraging employment of Guard and Reserve members who bring integrity, global perspective and proven leadership to the civilian workforce.
Social Media
Talascend's social network communities are growing every day, connecting professionals from across the technical world. Maybe you belong here. Take a look around and decide for yourself.