Shoua Thao, Recruiter and Veteran
Talascend Spotlight
June 19, 2020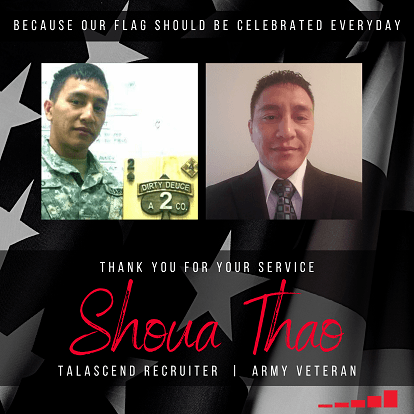 Shoua Thao, Recruiter and Veteran
Because Flag Day should be celebrated every day, we are so proud to be using this week to highlight our dedication and commitment to the Veteran workforce. A workforce that undeniably represents the American Flag for which they have all selflessly served.
As a Veteran Owned, Veteran Friendly Employer, we are thrilled to spotlight our very own Veteran, Shoua Thao. Shoua is a Recruiter based out of our Troy, MI office and started his career with Talascend in March just days before the global pandemic hit. Despite the trials of learning a new job virtually, Shoua's determination and perseverance has proved to be testament to his character.
Here's a little more about Shoua's military journey and furthermore, what led him to Talascend:
What is your Military background/history?
I have spent 10 years in the Army as an Infantryman, completing 3 tours overseas (Ar Ramadi, Iraq in 2006-2007, Afghanistan (Arghandab River Valley) in 2009-2010, and Kunar Province in 2012). Throughout my military career, I received 3 good conduct medals, 4 army achievement medals, 4 ARCOM's (1 with valor) and various awards and military schoolings.
How was your transition from the Military to Civilian work?
My transition from the military to the civilian world was tough, especially looking for a job with no experience. However, I did not allow that to frustrate me. Instead, I enrolled in school online and completed my bachelor's degree in Human Resources Management in 2019. Completing my degree helped make job searches much easier, which led me to Talascend.
How has your experience been so far at Talascend?
My experience with Talascend has been amazing thus far. Although I still have much to learn due to the lockdown and having come in during pre-covid19, I would not want it any other way. The team has been amazing and extremely helpful in assisting me. My experience here has made me feel like I was in the military all over again because everyone is so selfless.
What made you want to join the Military?
My grandfather was a Veteran who fought alongside Americans during the Secret War and battled against the communist in the 1960s. He always told us his stories that I really enjoy listening to them. Despite some stories being traumatizing, I knew at the age of 12 that I wanted to join and serve our country.
What does being a Veteran mean to you?
Gosh, that's a tough question. Being a Veteran means that there is a period of my life that I am most proud of. Where life meant more than just taking care of myself and my own self-interests. Being a Veteran means dedicating entirely to one role, one function, and one purpose that is greater than me and for the greater good … it was for my country.
We are so proud to have Shoua as a Talascend team member who continuously displays selflessness, kindness, dedication, and a constant willingness to learn. His extensive journey through the military and now in the civilian work world is inspiring. Thank you for serving our country and serving as such a perfect addition to the united Talascend team.
If you are a Veteran in transition or simply seeking a new career opportunity, please reach out us and ask for Shoua Thao. He would be happy to support you with your search.
About Talascend
Talascend is a Veteran Owned Business that is dedicated to the success of our nation's civilian and veteran personnel. To date, the Talascend organization has a staff of 60 experienced and tenured recruiting professionals, a contract community of nearly 700 employees working on-site at our partnering accounts, and a candidate community of 700,000+ engineering, technical and skilled trade professionals.
With 75 years of staffing success, Talascend has been one of the most reliable and effective providers of strategic staffing solutions for clients serving multiple industry verticals needing top talent in engineering, technical, and skilled trade disciplines. Headquartered in Troy, Michigan, the Talascend companies have worked with some of the world's largest and best-known organizations on an extensive range of high-profile projects nationwide. If you are looking for a new career, or to grow your workforce, contact us today!
Social Media
Talascend's social network communities are growing every day, connecting professionals from across the technical world. Maybe you belong here. Take a look around and decide for yourself.