Social Media Mantra
Official Talascend Release
July 31, 2015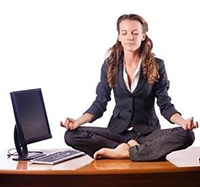 It's no surprise that social media has found a comfortable niche in most of our daily lives, whether we're checking up on our Facebook friends' weekend or looking for a job on LinkedIn. In today's fast-paced world, social media gives us just what we want—current, up-to-the minute updates on who and what we want to stay connected to.
As a full-service staffing firm, social media is undoubtedly a crucial tool in our back pocket for finding and networking with our candidates—whether we're searching for engineers, sharing a hot job or researching our candidates' social media presence.
In April, Edison Research reported that 67% of Americans use social media. If you're in that 67% percent, don't get caught up in the daily news feeds and updates alone, adopt our social media mantra…Stay current. Stay professional. If you have any professional contacts on social media, here are some tips on how to practice that mantra:
Regularly Scheduled Clean-Up
It's a good idea to set a calendar reminder to clean up your social media profiles about as often as you get your oil changed—every quarter or so. Review your skill sets and make sure your job description is current. Also, when you make these changes, your connections are updated as well. That's another great way to keep your profile in front of them.
Profile Pictures Matter
There's a reason it's called social media and a part of being social is making a human connection—whether it's personal or professional—so, put your face out there. You're more likely to connect with people and get feedback when they see who you are. Also, don't use that fraternity picture from five years ago, if you don't have the dough to dish out for a professional headshot, at least make sure your headshot is current and, you guessed it…professional.
Speak No Evil
Basically, be kind and be politically correct. Depending on your profession, how 'out of the box' your comments are may vary; but, if you wouldn't share that thought at a conference table among your co-workers and boss, it's probably too edgy to share on social media among professional contacts. Having an opinion is great and it's totally okay and encouraged to weigh in on issues that matter to you; but, be mindful to respect other's opinions. Keep it clean and no one gets hurt.
Let Someone Else Say It
Not everyone has the time to devote to writing their own daily content for posting and that's okay. You can still give the perception on your social media profile that you're in the know regarding your profession and/or skill sets. Link to published articles from reputable media and professional associations, offer commentary and begin to show your connections what a pro you are at staying on trend with your industry and expertise.
You've Got Mail
If the message is targeted to you alone; respond. Whether it's about a job, an invitation to join a group or attend an event, the professional thing to do is to respond. Even if you aren't buying what that connection is selling today, you might be interested tomorrow.
Social media is almost an art form in itself; but, adopting the social media mantra of 'Stay Current, Stay Professional' will ensure that you stay relevant with your connections and possibly your next employer.
About Talascend
Talascend is a Veteran Owned Business that is dedicated to the success of our nation's civilian and veteran personnel. To date, the Talascend organization has a staff of 60 experienced and tenured recruiting professionals, a contract community of nearly 700 employees working on-site at our partnering accounts, and a candidate community of 700,000+ engineering, technical and skilled trade professionals.
With 75 years of staffing success, Talascend has been one of the most reliable and effective providers of strategic staffing solutions for clients serving multiple industry verticals needing top talent in engineering, technical, and skilled trade disciplines. Headquartered in Troy, Michigan, the Talascend companies have worked with some of the world's largest and best-known organizations on an extensive range of high-profile projects nationwide. If you are looking for a new career, or to grow your workforce, contact us today!