Supriya on Recruiting and Reaching Career Goals
Talascend Spotlight
June 29, 2020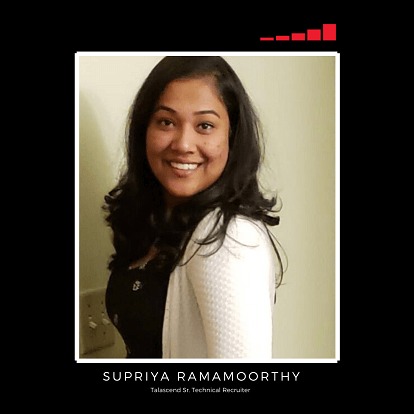 Supriya Ramamoorthy, Sr. Technical Recruiter
Talascend is where opportunities await. More than anything, we want to connect our clients with the best fit talent for any and all vacancies they may have. Across all vast job industries, what remains the same is there must be a passion and dedication to the job. Finding the right talent can be challenging, this task is done so by our highly skilled recruiters.
To find out what recruiters are truly looking for, and how they make the right match, we asked our very own Senior Technical Recruiter, Supriya Ramamoorthy.
What is your main job and responsibilities as a recruiter?
I work on direct and contract placements for clients mostly within the automotive industry. I also work on staff hiring and training new recruiters on Talascend processes & procedures.
What is your process like in matching candidates with a certain position?
After sourcing candidates based on skill set & basic requirements from the hiring manager, I have an initial conversation to understand their educational background, experiences and get a sense of what they are passionate about. This conversation helps to understand if the candidate matches the must haves and good to have skills and ensures there is a good candidate/company fit in terms of career aspirations and company culture.
How can you tell if someone is or is not a good fit for a position?
When you start looking at a candidate as not just a resume and try to take a more holistic approach it becomes easier to understand if they are fit a or not. As a recruiter it is important to understand that being fit for a position is not just about a skill set match but also matching the interest of the candidate with what the company does and its values. In short, understanding a candidate's motivation, preferences, characteristics and of course skills are extremely important for finding if a candidate is a good fit or not.
What is your favorite part about being a Talascend recruiter?
Talascend truly has a family-like culture where everyone's success (big or small) is celebrated. This fosters an environment where each of us, with the passion to help other achieve their goals can thrive and succeed. Over the past few years, I have learned a lot from the leadership team and I'm excited to be a part of this organization.
Any last thoughts on the topic of helping candidates reach their career goals?
Create a plan for yourself, planning gives direction and structure. Apart from acquiring the qualifications and skills, being confident about your abilities, being passionate and always open to feedback & learning helps you achieve your goals quicker.
For more info on our recruiting process, and to see open positions, please visit talascend.com
About Talascend
Talascend is a Veteran Owned Business that is dedicated to the success of our nation's civilian and veteran personnel. To date, the Talascend organization has a staff of 60 experienced and tenured recruiting professionals, a contract community of nearly 700 employees working on-site at our partnering accounts, and a candidate community of 700,000+ engineering, technical and skilled trade professionals.
With 75 years of staffing success, Talascend has been one of the most reliable and effective providers of strategic staffing solutions for clients serving multiple industry verticals needing top talent in engineering, technical, and skilled trade disciplines. Headquartered in Troy, Michigan, the Talascend companies have worked with some of the world's largest and best-known organizations on an extensive range of high-profile projects nationwide. If you are looking for a new career, or to grow your workforce, contact us today!
Social Media
Talascend's social network communities are growing every day, connecting professionals from across the technical world. Maybe you belong here. Take a look around and decide for yourself.