Talascend celebrates 75 years of Staffing Success and have only just begun
December 22, 2021
1946 is the year in which the Talascend story began and 75 years later, the company continues to add exciting chapters to their book of staffing excellence.
As a nationwide leader in engineering, technical and skilled labor recruitment, the accomplishment of being in business for three quarters of a century is surely something to be celebrated. Talascend Director of Marketing, Jaclyn Sikora, states; "This is a year of celebration for the Talascend Team as we proudly acknowledge 75 years of creating career opportunities for job seekers who have come to trust us during their job search journey. We celebrate 75 years of amazing clients who have become partners that share in our mission of finding the best and brightest employees that will aide in their workforce development. We celebrate our team's united contributions toward the world's economic growth and sustainability; but most importantly, we celebrate the thousands and thousands of lives we have changed based on our efforts in connecting hard working people with fulfilling job openings nationwide."
75 years has given this tenured team the experience and knowledge to tackle all things thrown in their path. They have staffed across numerous industry lines, recruited for hundreds of skill-sets and job disciplines, yet despite all of the chapters within their journey, Talascend has never in 75 years witnessed the dynamics of working in the staffing world during a global pandemic. Talascend employees across all levels of the organization have become career coaches, counselors, and cheer leaders to their expansive candidate communities. They have become sounding boards, strategists and problem solvers to their partnership portfolios, and despite the challenges that have come during this pandemic and Great Resignation, this Talascend Team jumped in to deliver. They did everything in their power to get the job done, and they will continue to work tirelessly to aide in the progression of filling our nation's job vacancies.
To all of this, we say to our community of supporters, thank you for trusting Talascend. We have been here for 75 years and will to continue to be here for many more years to come! This is a monumental chapter in this Talascend Tale, and this united team stands proudly in stating ... we have only just begun.
Here's to 75 more years of staffing success!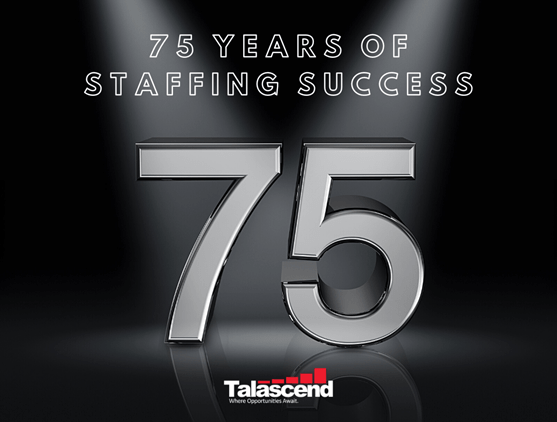 About Talascend
Talascend is a Veteran Owned Business that is dedicated to the success of our nation's civilian and veteran personnel. To date, the Talascend organization has a staff of 60 experienced and tenured recruiting professionals, a contract community of nearly 700 employees working on-site at our partnering accounts, and a candidate community of 700,000+ engineering, technical and skilled trade professionals.
With 75 years of staffing success, Talascend has been one of the most reliable and effective providers of strategic staffing solutions for clients serving multiple industry verticals needing top talent in engineering, technical, and skilled trade disciplines. Headquartered in Troy, Michigan, the Talascend companies have worked with some of the world's largest and best-known organizations on an extensive range of high-profile projects nationwide. If you are looking for a new career, or to grow your workforce, contact us today!
Social Media
Talascend's social network communities are growing every day, connecting professionals from across the technical world. Maybe you belong here. Take a look around and decide for yourself.