Talascend Ranks on Staffing Industry Analyst's 2015 Largest Staffing Firms in the US Report
Official Talascend Release
August 10, 2015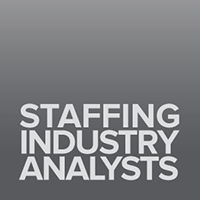 Talascend recently ranked as one of the Largest Staffing Firms in the US for 2015 according to a report released by Staffing Industry Analyst [SIA], a global advisor on contingent work. Talascend was one of 13 newcomers to the list that have not ranked in previous years with a ranking of 114 out of 120 staffing firms listed.
"Since Talascend was formed seven years ago, we have concentrated on our core values of expertise, enthusiasm, accountability and integrity," said Ron Wood, CEO Talascend. "We consistently promote those values daily among our team members in their dealings with our key stakeholders and I believe making this esteemed list is evidence of that commitment. As we continue to concentrate on those objectives, I anticipate Talascend's ranking will continue to improve in the future."
Rankings were based on 2014 U.S. temporary staffing revenue. Talascend, with US revenues of over $100M, tied with Paramount Staffing, an industrial staffing firm headquartered in Illinois. According to SIA, 64 firms (or roughly half of the firms in the report) generated between $100 million and $200 million in staffing revenue. These 64 firms generated $9.3 billion, or 7.5 percent of the market. The top five firms—Allegis Group, Adecco, Randstad Holding, Manpower Group, and Kelly Services— remain unchanged for the second year in a row.
Regarding skill segment in which each firm generated the largest portion of their temporary staffing revenue, the breakdown is as follows:
Industrial skill segment > 38 firms
IT > 35 firms
Engineering > 10 firms
Office/clerical > 6 firms
Finance/accounting > 2 firms
According to the most current U.S. Economic Census data available, there were approximately 17,000 staffing firms, which were in business for a year or more during 2007. Those companies operated approximately 35,000 offices.
About Talascend
Talascend is a Veteran Owned Business that is dedicated to the success of our nation's civilian and veteran personnel. To date, the Talascend organization has a staff of 60 experienced and tenured recruiting professionals, a contract community of nearly 700 employees working on-site at our partnering accounts, and a candidate community of 700,000+ engineering, technical and skilled trade professionals.
With 75 years of staffing success, Talascend has been one of the most reliable and effective providers of strategic staffing solutions for clients serving multiple industry verticals needing top talent in engineering, technical, and skilled trade disciplines. Headquartered in Troy, Michigan, the Talascend companies have worked with some of the world's largest and best-known organizations on an extensive range of high-profile projects nationwide. If you are looking for a new career, or to grow your workforce, contact us today!