Uniform Safety Tips
October 26, 2020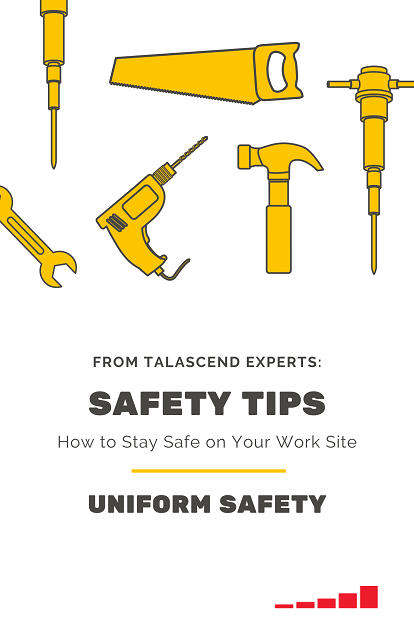 The safety and well-being of our Talascend team members is our number one priority, especially for those that work within a plant, shop, or warehouse environment. Talascend is a proud partner to the many organizations that fall within the conveyor installation, light industrial, and material handling industries and we live and breathe the safety protocols of site, each client, and most importantly, for each team member!
Uniform safety is a very common hazard that can be present in any shop/warehouse/plant environment. Required uniforms on various worksites may always be a little different, but any rules placed for this worksite are crafted around the hazards present. Each year, around 700,000 work days are lost due to injuries caused by a failure of personal protective equipment (PPE). The injuries to employees due to improper PPE are completely avoidable.
Our safety expert, Adam Moore states that his most basic PPE rule is to start from the boots up. In any hazardous warehouse environment, only steeled toed boots should be worn since they also offer ankle support. Make a personal investment in this item as it will keep you the most comfortable and ensure your safety.
Also, take pride in caring for your PPE. Any PPE issued by your company is expensive and reflects on your managers of who they are trusting with it. Taking care of your PPE ensures equipment won't wear out before it's time. This saves money and shows you to be a careful and cautious employee.
OSHA allows companies to set PPE guidelines specific to the hazards they have in their work environment, and then legally enforce those guidelines. Employees should be constantly reminded of what their proper PPE is, and trained on the proper use if needed. Most specifically in the sectors of Material Handling, Construction, and others of this kind, safety gear is never optional. When hazards are present, always be wearing a hard hat, vest, glasses, protective shoes and any other requirements.
Lastly, if there is ever any confusion about what to wear to keep you safe, ask your safety manager or supervisor. Keep your fellow employees safe as well by encouraging they follow OSHA and personal safety guidelines. We can all watch out for each other and keep work as safe as possible!
About Talascend
Talascend is a Veteran Owned Business that is dedicated to the success of our nation's civilian and veteran personnel. To date, the Talascend organization has a staff of 60 experienced and tenured recruiting professionals, a contract community of nearly 700 employees working on-site at our partnering accounts, and a candidate community of 700,000+ engineering, technical and skilled trade professionals.
With 75 years of staffing success, Talascend has been one of the most reliable and effective providers of strategic staffing solutions for clients serving multiple industry verticals needing top talent in engineering, technical, and skilled trade disciplines. Headquartered in Troy, Michigan, the Talascend companies have worked with some of the world's largest and best-known organizations on an extensive range of high-profile projects nationwide. If you are looking for a new career, or to grow your workforce, contact us today!
Social Media
Talascend's social network communities are growing every day, connecting professionals from across the technical world. Maybe you belong here. Take a look around and decide for yourself.