Work Environment Safety Tips
November 10, 2020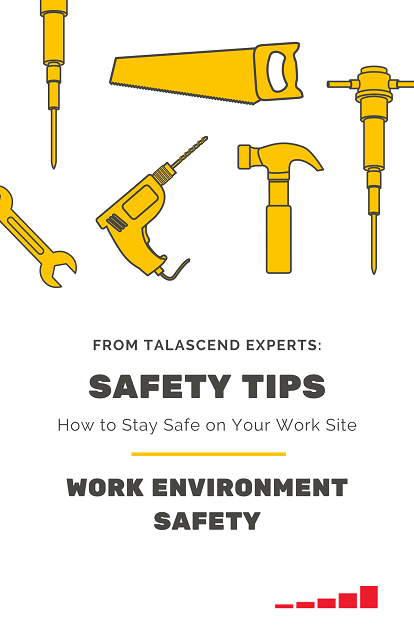 Being safe in your workplace is not limited to only those operating dangerous machines. Even with proper PPE, walking through a hazardous site can still incur risk if you aren't aware of your surroundings. In any plant, manufacturing, or warehouse environment, basic violations are more serious than they seem such as; leaning over railings, standing on tops of ladders/tall equipment, being harnessed in correctly, and keeping other employees in check.
Our safety expert, Adam Moore encourages these extra precautions as well:
Stay off your cell phone when walking
Never walk into barricaded areas or restricted parts of the worksite
Avoid walking into areas with work being performed overhead
Listening, communicate, and always being aware of your surroundings
There are constant minor and serious injuries due to cutting corners and not listening to precautions regarding basic workplace safety. The best way to stay safe is to always be briefed on how to conduct yourself on the worksite and with equipment. Abide by all rules, as they are only in your best interest. Wearing proper PPE and knowing the safety hazards around you will keep yourself and others safe.
Please feel free to reach out to Talascend with any questions regarding your worksite.
About Talascend
Talascend is a Veteran Owned Business that is dedicated to the success of our nation's civilian and veteran personnel. To date, the Talascend organization has a staff of 60 experienced and tenured recruiting professionals, a contract community of nearly 700 employees working on-site at our partnering accounts, and a candidate community of 700,000+ engineering, technical and skilled trade professionals.
With 75 years of staffing success, Talascend has been one of the most reliable and effective providers of strategic staffing solutions for clients serving multiple industry verticals needing top talent in engineering, technical, and skilled trade disciplines. Headquartered in Troy, Michigan, the Talascend companies have worked with some of the world's largest and best-known organizations on an extensive range of high-profile projects nationwide. If you are looking for a new career, or to grow your workforce, contact us today!
Social Media
Talascend's social network communities are growing every day, connecting professionals from across the technical world. Maybe you belong here. Take a look around and decide for yourself.