Hiring 101: Understanding the Role
Talascend Educational Series: 1
June 18, 2020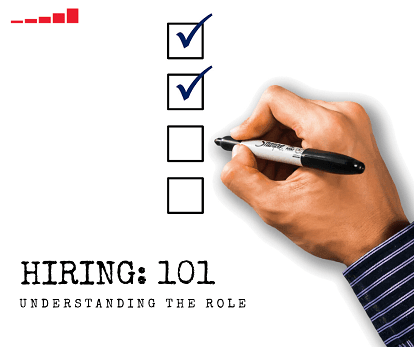 We all know that hiring the wrong person is not only expensive, it's time consuming, morale diminishing and quite frankly, a huge inconvenience. Do it right the first time by fully understanding the specific job requirements of your vacancy. This seems to be an obvious tip, but all too often, hiring managers extend offers to simply fill the void in their workforce and to have the extra "boots on the ground." Don't do this. Here are 2 simple tips to prep your hiring efforts for success!
Tip #1: Before even looking at a resume, know the position requirements and put them into a solid job description. This is the first step to fully understanding the role. A well-executed job description with a clear position overview, concise candidate requirements (hard and soft skills), and unique candidate preferences will payoff greatly in the end for you and your future employees.

Tip #2: Understand your role as it sits today, a year from today, and 5 years from today. This is important to employees and explaining your specific career progression opportunities will be a real differentiator if your offer is on the table with another company. Job applicants love to see succession opportunities and having definitive expectations up front will not only show your corporate transparency, but will provide a path for growth. Understanding the evolution of the role when planning for a new hire is critical.

Tip #3 & #4:
We left the last 2 tips open for your comments and feedback. Please let us know on Facebook, what are some other preemptive measures you take?
See our previous post in the series: Hiring 101: Finding your Missing Piece
About Talascend
Talascend is a Veteran Owned Business that is dedicated to the success of our nation's civilian and veteran personnel. To date, the Talascend organization has a staff of 60 experienced and tenured recruiting professionals, a contract community of nearly 700 employees working on-site at our partnering accounts, and a candidate community of 700,000+ engineering, technical and skilled trade professionals.
With 75 years of staffing success, Talascend has been one of the most reliable and effective providers of strategic staffing solutions for clients serving multiple industry verticals needing top talent in engineering, technical, and skilled trade disciplines. Headquartered in Troy, Michigan, the Talascend companies have worked with some of the world's largest and best-known organizations on an extensive range of high-profile projects nationwide. If you are looking for a new career, or to grow your workforce, contact us today!
Social Media
Talascend's social network communities are growing every day, connecting professionals from across the technical world. Maybe you belong here. Take a look around and decide for yourself.