John Ross on Material Handling
Talascend Spotlight
June 22, 2020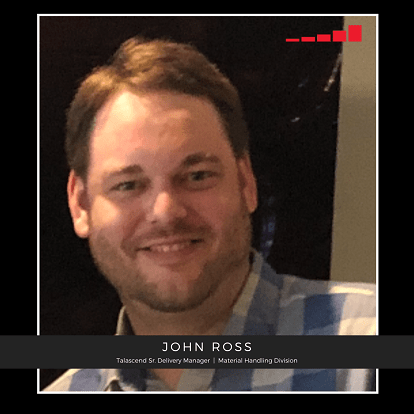 John Ross, Sr. Delivery Manager
Hang on tight because within this segment, we are diving into the many industries that Talascend has devoted 70+ years of staffing success to. Talascend takes great pride in not only the Industries in which we serve, but the contributions we have made to the world-wide workforces.
This week, we will be focusing on the Material Handling Industry. MHI describes Material Handling to be the "movement, protection, storage and control of materials and products throughout manufacturing, warehousing, distribution, consumption and disposal." Talascend's place in this industry is to provide hard working employees that support the movement of products, whether it's through installation projects, conveyor construction, or warehouse management.
Talascend jumped into the industry over 5 years ago, based on our extensive experience in Manufacturing and Production. To date, our team of dedicated Material Handling Recruiters have become the nationwide staffing SME's of the industry. We have been introduced to some amazing partners and industry leading Supply Chain innovators who have trusted us as their strategic recruiting supplier in this booming industry that has helped shape Talascend immensely.
Talascend's very own Material Handling Expert and Senior Delivery Manager, John Ross, offers some key attributes about the industry and our place within it.
What positions does Talascend commonly recruit for within the Material Handling Industry?
The main jobs we fill are related to the Installation and Manufacturing side of the industry. Positions like Mechanical Installers, Electrical Installers, Assemblers, Welders and Inventory Specialists are the most common reqs we see, but we also fill higher-level Direct Hire roles for Site Managers, QA/QC Managers, Controls Engineers, Mechanical Engineers, Electrical Engineers and Project Managers. There really is no position within the industry that we have not worked.
What challenges do you face in finding the right recruits for a Material Handling position?
Given the current state of our economy, we are continuously bumping up against Unemployment as our biggest competition. The industry is HOT and there are more jobs openings popping up every day, so if you are looking to get ahead of the influx of hires getting back into the workforce post COVID-19, call us today or check out our openings.
What is the Material Handling industry commonly looking for in an employee?
Talascend is seeking hard working candidates who are reliable, dependable and ready to work immediately. We have nationwide openings in this space!
From what you've seen, how has the MH industry changed amidst this COVID outbreak?
There have been major changes to the safety and sanitary requirements at the sites represented by Talascend's Material Handling staff. All roles have been deemed essential and they have not slowed down one bit with the COVID outbreak.
Any other overall thoughts from you about your experience with staffing in the Material Handling industry?
This industry has grown a TON in the last 5 years. It is very clear that it has an increasingly bright future. Companies continue to move to an eCommerce model and seamless distribution continues to be a major focus for these businesses. Technology is another sector within this industry that continues to evolve as well. Innovating with AI and other automated systems will revolutionize the industry in ways beyond imagine and we are thrilled to be a part of it.
For more info on Talascend's Material Handling efforts, visit here: Material Handling.
About Talascend
Talascend is a Veteran Owned Business that is dedicated to the success of our nation's civilian and veteran personnel. To date, the Talascend organization has a staff of 60 experienced and tenured recruiting professionals, a contract community of nearly 700 employees working on-site at our partnering accounts, and a candidate community of 700,000+ engineering, technical and skilled trade professionals.
With 75 years of staffing success, Talascend has been one of the most reliable and effective providers of strategic staffing solutions for clients serving multiple industry verticals needing top talent in engineering, technical, and skilled trade disciplines. Headquartered in Troy, Michigan, the Talascend companies have worked with some of the world's largest and best-known organizations on an extensive range of high-profile projects nationwide. If you are looking for a new career, or to grow your workforce, contact us today!
Social Media
Talascend's social network communities are growing every day, connecting professionals from across the technical world. Maybe you belong here. Take a look around and decide for yourself.